I have had this yarn (Knitpicks Sierra a.k.a.
Cadena
) in my stash for a while now. I love the color (I am a big blue fan) and could not figure out what to use it for. Well I re-discovered it while I was stash diving and thought it was perfect. I dug out my stitch dictionary and found this stitch. I then added some ribbing and this is what I have.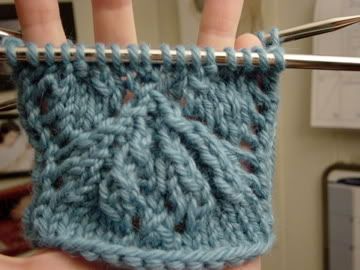 .
I have not decided what to do about the thumb. I really like to have a thumb and not just a slit, but will the yarn be to thick? I am using size 10 dpns. Maybe I could go down for just the gusset.......(thinking) = ).