I was excited about this knit along because I've already got so many pairs planned. I have quite a few for myself I keep putting off, as well as some for my MIL and sister. My sister wants these dragon scale mitts in a charcoal superwash wool, I'm searching for the right yarn. I have a pair of gloves to do for my MIL, well one is done and needs a mate. The pattern (
Victoriana Gloves
) is my own design.
As well as some gloves for me. I'm currently knitting the
Whitewater
ones in green. I have to frog the top of the first one because I think it will look better(and not curl) in the same ribbing that's on the bottom.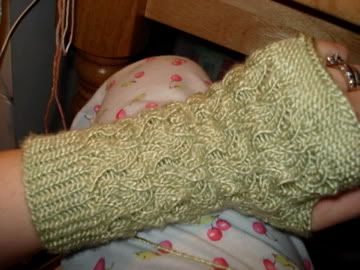 I'm also going to make a pair called June Bride from my Romantic Hand Knits book. Again, need to decide on yarn!